Chalmer E. Faw
From Anabaptistwiki

Home A B C D E F G H I J K L M N O P Q R S T U V W X Y Z Abbreviations Glossary
---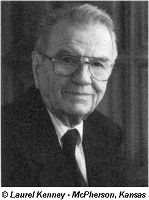 Chalmer Faw was born in Yakima, Washington. He received his B.A. degree from La Verne (Calif.) College in 1932, his B.D. from Bethany Biblical Seminary of Chicago in 1936, and his Ph.D. in biblical studies from the University of Chicago in 1939. In 1963 and 1964 he spent a year in postdoctoral studies at Marburg University. Chalmer and his wife, Mary, served from 1940 to 1944 as missionaries to northeastern Nigeria, involved in village evangelism. From 1945 to 1965 he taught New Testament at Bethany Theological Seminary and became a full professor. He has served as a mentor to several generations of Bible students and church leaders.
Faw has written several other books, including A Guide to Biblical Preaching (1962), When the Way Is New (1973), and Our Heritage 1886–1986: History of the Church of the Brethren (1986). Many of his articles have been published in church periodicals and scholarly journals, and he has held memberships in the Chicago Society of Biblical Research and the Society of Biblical Literature.
After their five children were grown and married, the Faws returned to Nigeria in 1965 and helped train indigenous leaders until 1976. They were involved in the Holy Spirit renewal movement in Nigeria. After their return to the United States, they engaged in an extensive traveling ministry of spiritual life renewal. In 1988 Faws settled at McPherson, Kansas, where Chalmer was a member of the local Church of the Brethren, a Bible teacher, and a freelance writer. He is since deceased.