Ernest D. Martin
From Anabaptistwiki

Home A B C D E F G H I J K L M N O P Q R S T U V W X Y Z Abbreviations Glossary
---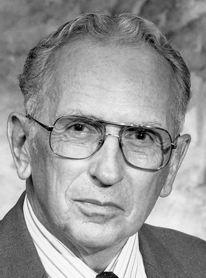 Ernest D. Martin was born on a farm in eastern Ohio in 1924. Following studies at Goshen (Ind.) College and its Biblical Seminary (B.A., 1950; Th.B., 1951), he was called into ministry as associate pastor in his home congregation, Midway Mennonite Church, Columbiana, Ohio. In 1963 he became the lead pastor and continued in that capacity until retirement in 1989. A sabbatical in 1976–77 gave him opportunity for an additional year at Associated Mennonite Biblical Seminaries (Elkhart, Ind.), including a unit of clinical pastoral education.
Martin served as vice-president and president of the Ohio Conference of the Mennonite Church and on several conference commissions and committees. He continues as overseer of several churches and leads a pastor-peer group. Denominational assignments have included serving as a member of a reference group on membership instruction materials, the task group preparing the position statement The Church and Biblical Interpretation, and the Goshen College Board of Overseers. He has taught short-term courses and led seminars in various church settings and has participated in local and urban ecumenical groups.
Martin's publications include Preparing for Church Membership: Leader's Guide, Experiencing Christ in the Church, Off to a Good Start, and Jeremiah: A Study Guide. Over the past thirty years he has also written numerous Sunday school lessons for Herald Adult Studies/Adult Bible Study Guide and adult teacher sections for Builder.
Ernest and Rosetta (Blosser), his wife, continue to live at Columbiana, Ohio, and attend the Midway congregation. They are the parents of Timothy, Susan Beuscher, and Nathan. Ernest continues to be busy with family, several church assignments, volunteer work in several settings, and a variety of interests and hobbies.