Paraguay
From Anabaptistwiki
Paraguay

Paraguay: World Factbook, 2009[1]

Area

406,750 sq km

Population

6,995,655 (July 2009)

Languages

Spanish (official), Guarani (official), German

Religions

Roman Catholic 89.6%, Protestant 6.2%, other Christian 1.1%, other or unspecified 1.9%, none 1.1% (2002 census)

Ethnicity

mestizo (mixed Spanish and Amerindian) 95%, other 5%[1]

Groups Associated with MWC

20 (2006)

Membership in MWC Affiliated Churches

29,461 (2006)
Paraguay is a landlocked country in South America surrounded by Argentina, Bolivia, and Brazil. Paraguay has an area of 406,750 square kilometers and a population (July 2009) of 6,995,655.[1] Currently (2009), Anabaptists in Paraguay are of Indigenous, Latino, North American and European descent. To learn more about Anabaptist-related groups in the Caribbean, Central or South America click here.
Mennonites first came to Paraguay in the 1920s, when conservative Mennonites in western Canada expressed interest in emigrating to South America. These conservative Mennonites had immigrated to Canada from Russia in the 1870s and had prospered. During World War I, however, Canada attempted to nationalize various ethnic groups by eliminating private schools, requiring that all students learn English, and forbidding the teaching of religion. Conservative German-speaking Mennonites who wanted to maintain separation from the world felt this infringed upon their religious privileges. As a result, Old Colony Mennonites researched several Central and South American countries, including Paraguay, before emigrating to Mexico.[2]
Several years later, similar conservative Mennonites in Canada of Russian descent became interested in Paraguay. In 1921 the Paraguayan leaders, interested in settling the Paraguayan Chaco, formalized the oral promises they had made to the Old Colony Mennonites by signing a law that gave Mennonites the right to administer their own schools and to worship freely. The privilegium also granted Mennonites exemption from military service during times of war or peace. In 1926 and 1927 some 1,700 Mennonites immigrated to Paraguay from Canada, starting the Menno Colony.[2]
From 1930-1932, some 2,000 Mennonite refugees, fleeing religious persecution and economic hardships in Russia, immigrated to the Paraguayan Chaco, forming the Fernheim Colony. In 1937 settlers dissatisfied with the Fernheim Colony left and started the Friesland Colony in eastern Paraguay. In later years Russian Mennonites continued to emigrate from Canada and created new colonies in Paraguay, while Old Order Amish and Beachy Amish immigrated to Paraguay starting in the 1960s.[2] Mennonite mission efforts in Paraguay have also led to the formation of several non-immigrant Mennonite groups made up of indigenous and Latino populations.
In 2009 Mennonites held the fifteenth Mennonite World Conference in Paraguay's capital, Asunción.
Create new articles that tell stories about the Anabaptists of Paraguay and insert links to those stories here. Click here to learn more about stories.
Anabaptist-Related Groups in Paraguay
In 2006 there were 20 Anabaptist-related groups formally associated with Mennonite World Conference, as well as several independent or unaffiliated groups:
Anabaptist Colonies in Paraguay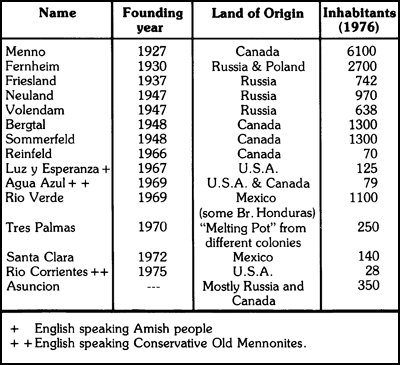 Electronic Resources
Paraguay Sources in AnabaptistWiki
Click the Paraguay Sources link at the bottom of this entry to browse the articles and primary sources related to Paraguay that are hosted on AnabaptistWiki.
Annotated Bibliography
General Annotated Bibliography
This is the official website for the Agrupación Menonita Latinoamericana de Comunicaciones (Latin American Mennonite Association for Communication). The website is an excellent resource for information about the various branches of the Anabaptist church in Latin America. It includes sections describing the association and its history. Additionally, twice a month the group posts an on-line news bulletin. Also included on the site are links to various congregations and conferences in Latin America as well as to Anabaptist seminaries in Latin America.
Alfert, Lucia. "The Mennonite Presence in the Chaco from a Catholic Perspetive." Mennonite Quarterly Review 76, no. 3 (July 2002): 337-352.
This article offers an outsider´s perspective on Mennonites in Paraguay. Alfert describes interactions between Mennonites and Catholics in Paraguay in light of the expansion of Mennonite colonies in a country traditionally shaped by the Catholic Church. Alfert does not flinch from identifying points of tension, but also expresses the hope for healthy ecumenical dialogue.
Boschmann, Erwin. Paraguay: A Tour Guide, With Special Emphasis on the Mennonites. Newton, Kan.: Faith and Life Bookstore, 2008.
This illustrated tour guide provides general information about Paraguay including, geography, weather, travel, customs, and economy. In addition, Boschmann touches on Mennonite history in Paraguay, the city of Asunción, and indigenous populations in Paraguay.
Dyck, Peter J. and Elfrieda. Up from the Rubble. Scottdale, PA: Herald Press. 1999.
Up from the Rubble is Peter and Elfrieda Dyck's first-person account of their efforts with MCC to help European Mennonite refugees emigrate from Europe and settle in other countries, including Paraguay, after WWII.
Epp, Frank H. Mennonite Exodus. Altona, MB: D.W. Friesen and Sons, 1962.
Mennonite Exodus describes the migration and settlement of Mennonites since the Russian Revolution in 1917. The book covers major migrations from Russia to Canada and South America from 1923 to 1930, migrations from 1947 to 1953 after WWII, and other minor movements. The book touches on immigrant groups that went to Paraguay and places their story within the context of global Mennonite migratory trends.
Klassen, Peter P. and Gunther H. Schmitt (translator) The Mennonites in Paraguay: Volume 1, Kingdom of God and Kingdom of this World. Steinbach, MB: Mennonitische Post, 2003.
Klassen, Peter P. and Gunther H. Schmitt (translator) The Mennonites in Paraguay: Volume 2, Encounter with Indians and Paraguayans. Winnipeg, MB: Mennonite Books, 2002.
In Mennonites in Paraguay: Volume 1 Klassen presents an excellent history of Mennonite immigrant groups in Paraguay. Klassen outlines the history of several Mennonite colonies (Menno Colony, Fernheim Colony, Friesland Colony, Primavera Hutterian settlement, Neuland and Volendam Colonies, Sommerfeld and Bergthal Colonies, Tres Palmas Colony, Mexican immigrant colonies, and Amish/Old Mennonite Colonies) in great detail and place their histories within the context of broader immigration history in Paraguay.
In Mennonites in Paraguay: Volume 2 Klassen outlines the history of Mennonite immigrant interaction with indigenous populations in Paraguay. He offers a comprehensive description of the indigenous populations that existed before Mennonite groups entered the Paraguayan Chaco, and he describes the variety of interactions Mennonite immigrant groups have had with indigenous groups.
On Nov. 2 2006 Maria Gloria Penayo de Duarte, wife of Niconar Duarte Frutos (President of Paraguay from 2003-2008), spoke at the annual convention of Mennonite Economic Development Associates (MEDA) in Tampa, Florida. As a Mennonite, Duarte expressed her hopes for the future for the Mennonite church, noting especially her desire that the 2009 Mennonite World Conference assembly in Paraguay would raise awareness about global Anabaptists who are not ethnically German. Durate noted that in the past many saw "Mennonite" as being a culture, and she hoped that in the future being "Mennonite" would be seen as chosen faith identity, not a inherited cultural one.
"Paraguay Mennonites: Immigrants, Citizens, Hosts." MCC Peace Office Newsletter 39, no. 1 (January-March 2009).
The MCC Peace Office January-March 2009 Newsletter offers a concise introduction to Mennonites in Paraguay. Included in the newsletter is a brief history of Mennonites in Paraguay written by Edgar Stoesz; a letter from Paraguayan Mennonite theologian, Alfred Neufeld, discussing Paraguayan Mennonites' experience with the 2003 Paraguayan national election; and a book review of Jumping into Empty Space: A Reluctant Mennonite Businessman Serves in Paraguay's Presidential Cabinet. Additionally, there are suggested books for further reading and a description of the eight Paraguayan Mennonite conferences who, in July 2009, would host the Mennonite World Conference General Assembly.
Ratzlaff, Gerhard. Historia, Fe y Prácticas Menonitas: Un Enfoque Paraguayo. Asunción, Paraguay: Instituto Bíblico Asunción. 2006.
Historia, Fe y Prácticas Menonitas places the Paraguayan Mennonite experience in the context of larger global and historical Anabaptist trends. Ratzlaff opens the book with a succinct description of Mennonites in Paraguay, including basic doctrines held by the entire Mennonite Church and the different ethnic Mennonite groups. He then outlines the historical origins of the Mennonite Church, starting with the Reformation and the Radical Reformation. Ratzlaff also includes chapters on the history of Mennonite migration, both globally and to Paraguay; non-immigrant Mennonite groups in Paraguay; and Paraguayan Mennonite organizations and institutions.
Ratzlaff, Gerhard. "The Mennonite Brethren Church in Paraguay and Its Relationship to the Mennonite Brethren in North America." Direction 7, no. 3 (July 1978): 11-19. http://www.directionjournal.org/article/?275 (accessed 24 June 2009).
In this article Ratzlaff gives a brief description of the history of the Mennonite Brethren (MB) church in Paraguay, MB growth trends, and MB relationships between Paraguay and North America. Ratzlaff outlines the decreasing MB numbers in Mennonite Colonies in the 1970s due to emigration to the United States, Canada, and Europe and the growth of the non-immigrant MB church in Asunción (eventually the Convención Evangélica de Iglesias Paraguayas Hermanos Menonitas) due to MB missionary efforts. He notes that while the non-immigrant MB church in Asunción in 1978 was not completely autonomous from North American MB churches, the relationship was also not one of "subordinate dependence." Of particular interest in this article are two tables: one giving demographic information about Mennonite colonies in Paraguay, the other giving demographic information about MB churches in Paraguay.
Ratzlaff, Gerhard and Balzer, Jake (Translator). One Body, Many Parts: The Mennonite Churches in Paraguay. Kitchener, Ontario: Pandora Press, 2008.
In One Body, Many Parts Ratzlaff explores the great diversity among Mennonites in Paraguay, surveying Paraguayan Mennonites who descend from immigrants from Canada and Europe, Latin Paraguayan Mennonites, and Indigenous Paraguayan Mennonites.
Reimer, Gerhard. "The 'Green Hell' Becomes Home: Mennonites in Paraguay as Described in the Writings of Peter P. Klassen." Mennonite Quarterly Review 76, no. 4 (October 2002): 460-480.
In this article Reimer provides an excellent survey of the writings of Paraguayan Mennonite Historian Peter P. Klassen for an English-speaking readership.
Smith, Willard H. Smith. Paraguayan Interlude: Observations and Impressions. Scottdale, PA: Herald Press, 1950.
In Paraguayan Interlude Willard H. Smith, former Goshen College professor of history and political science, describes the experience of serving for two years with Mennonite Central Committee (MCC) in Paraguay, starting in January 1944. Interspersed among his own thoughts and feelings about his relief work, Smith briefly describes the history of Mennonite immigration to Paraguay, Paraguayan geography and people, and several Mennonite Colonies.
Stoesz, Edgar. Like a Mustard Seed: Mennonites in Paraguay. Scottdale, Pa.: Herald Press, 2008.
Stoesz, Edgar and Stackley, Muriel T. Garden in the Wilderness: Mennonite Communities in theb Paraguayan Chaco 1927–1997. Winnipeg, Man.: CMBC Publications, 1999.
In Like a Mustard Seed Stoesz describes the experience of Mennonites in Paraguay in three sections: "How they gathered," "How they prospered," and "How they are giving back." He outlines the history of the Mennonite colonies in the Chaco and describes in detail the contemporary Mennonite church throughout Paraguay.
In Garden in the Wilderness Stoesz and Stackley tell the history of the Mennonite Colonies in the Paraguayan Chaco, describing how they settled the region, their interactions with indigenous populations, and their growth through 1997. The book is richly illustrated.
Thematic Annotated Bibliographies
In addition to the general annotated bibliography on Mennonites in Paraguay, note several thematically oriented annotated bibliographies about the Mennonite experience in Paraguay:
Archives and Libraries
The Instituto Bíblico de Asunción (IBA)
IBA is a bible college owned and operated by the [Mennonite Brethren] (MB) church in Paraguay. It is part of the Universidad Evangélica, a consortium of Protestant institutions. Mennonite history books and the MB Archives are located in the lower level. To learn more, see the institute's website.
Centro Evangélico Menonita de Asunción (CEMTA)
CEMTA began in 1975 in San Lorenzo, a suburb of Asunción, and is part of the Universidad Evangélica de Asunción. Several years after the seminary opened, church leaders purchased land and built a small campus. The library is now located in a new building on the CEMTA campus in San Lorenzo, and has a collection of over 15,000 books in German, Spanish, Portuguese, and English. Included within the collection are the contents of the Mennonite Historical Library from Montevideo and books from the former Hutterite colony in Primavera. Each book from the Primavera Colony is identified in the computer cataloguing and can easily be retrieved. The most valuable Anabaptist and Mennonite books are kept in a cabinet built to accommodate the humidity of Asuncion. To search the library's online catalog, go to CEMTA's official webpage. The seminary is also developing a research center for Anabaptist studies in Latin America called the Centro de Estudios Anabautistas/Menonitas. A building just off-campus houses the beginnings of a Mennonite Archives.
For more information about archives and libraries with resources relating to all of Latin America see the list of archives and libraries on the Caribbean, Central and South America Page.
External Links
Centro Evangélico Menonita de Asunción (CEMTA)
Instituto Bíblico de Asunción (IBA)
The Mennonite Brethren Church in Paraguay and Its Relationship to the Mennonite Brethren in North America Article by Gerhard Ratzlaff in Direction
Paraguay on Global Anabaptist Mennonite Encyclopedia Online
Paraguay on The World Factbook
Tools to help prepare for Assembly 15 in Paraguay - Mennonite World Conference
Citations