Proverbs and the Birth of Ethical Monotheism (in Proverbs)
From Anabaptistwiki

Home A B C D E F G H I J K L M N O P Q R S T U V W X Y Z Abbreviations Glossary
---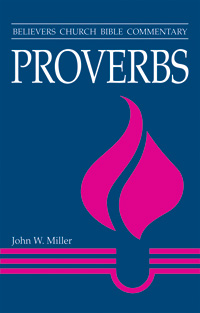 The literature of King Hezekiah's reforms marks a momentous new development in the life of Israel and the world. As never before, this literature challenges the state policies begun by Solomon of allowing "other gods" besides Yahweh (God of Israel) to be worshiped (1 Kings 11:1–10). For this reason the historians of the period wrote of Hezekiah himself that "there was no one like him among all the kings of Judah, either before him or after him" (2 Kings 18:5). Readers do not always realize how deeply mired in the cults of these other gods the Israelites had become in the intervening centuries, even though the histories of the period recite their names. They included "Ashtoreth the goddess of the Sidonians, and Molech the detestable god of the Ammonites"; "Chemosh the detestable god of Moab" (1 Kings 11:5, 7; 2 Kings 23:13); and "Baal and Asherah and all the starry hosts" (2 Kings 23:4–7; 18:4). Most were personifications of nature (fertility, death, wind, storm, sun, moon, or stars). They required of their worshipers not basic goodness but "incense" or breads or animal sacrifices (Jer 7:17–19), or even children (1 Kings 11:5, 33; 2 Kings 16:3; 23:10; Jer 19:1–6; Ezek 16:20), or consorting with sacred prostitutes (Amos 2:7–8; Hos 4:10–14; 2 Kings 23:7).
Only in divine "words" revealed to Moses (words that were carefully transmitted through the centuries by his Levite followers) was there a compelling religious alternative. But before Hezekiah's reforms this option was unknown in the wider world and only intermittently within the Israelite kingdoms themselves. One reason was Solomon's dismissal of the Levites from the Jerusalem temple (1 Kings 2:26–27) and their exclusion as well from the shrines of the northern Israelite kingdom when it was founded (1 Kings 12:31; Miller, 1994:47–48). The result was that, at the time of Hezekiah's reforms, both Israelite kingdoms were awash in the worship of other gods to such an extent that Israel's historians identify this as the chief reason for their nearly total destruction by the armies of Assyria (2 Kings 17:18–20).
It is against this background that we can take full measure of the place of the Hezekiah Edition of Proverbs within the religious history of Israel, the church, and the world. The innovative literature of Hezekiah's reforms functioned in diverse ways in support of a radical new approach to the religious life of Judah. It adopted the "words" of Moses in Deuteronomy as the state charter and guide (Deut 17:14–20). It took the account of Israel's history in Canaan in Joshua, Judges, Samuel, and Kings as an explanation of why Hezekiah's reforms were so urgently needed. It claimed the God-centered "prayers of David" (Pss 1–72; 72:20) as a devotional resource for a renewed personal and corporate worship. It accepted the oracles of certain prophets as additional sources of guidance and hope (Hosea; Amos; Mic 1–3; Isa 1–39). And last but not least, the Hezekiah Edition of Proverbs was produced to serve as a resource for inculcating in the minds and hearts of young men the monotheistic God-centered wisdom needed for building thriving peaceful households and societies.
Thus, in Proverbs the foundations were laid for what Jewish and Christian scholars have sometimes termed "ethical monotheism." This is a way of viewing the world and the whole of life from the carefully thought through perspective of a single holy God (Prov 9:10; 30:3, notes), who is involved in everything that happens (16:4). This Deity (Yahweh) is no mere personification of this or that aspect of nature, but as Creator of all that exists (3:19–20), he belongs to an invisible realm beyond imagination (Deut 5:8). Yet he has spoken and in speaking revealed his name and his will (Deut 5:1–21). Furthermore, in his dealings with Israel, Yahweh has proved himself to be fatherlike in his compassion and guidance (Prov 3:12). He can be called upon and trusted; he is personally present to everyone everywhere (3:5; 16:1, 2) and attentive to their prayers (15:29). His supreme desire is that human beings "enjoy the good life," which is why he led Israel into such a good land (Martens: 19). Revering him "teaches a man wisdom" (15:33a), and "from his mouth come knowledge and understanding" (2:6b). The "fear" of him is the "beginning of wisdom" (9:10).
To have grasped this truth about God's universal sovereignty, love, and concern for humanity so firmly and integrated it with the rich legacy of Solomon's wisdom about life so seamlessly (in their version of the book) is the great gift to humanity from those who created the Hezekiah Edition of Proverbs.
Invitation to Comment
To recommend improvements to this article, click here.