Richard B. Gardner
From Anabaptistwiki

Home A B C D E F G H I J K L M N O P Q R S T U V W X Y Z Abbreviations Glossary
---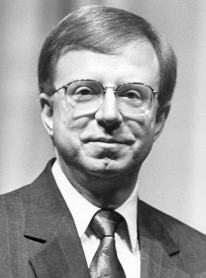 Richard B. Gardner is a teacher and writer who effectively bridges the worlds of scholarly study of Scripture and Bible study in the local church. An ordained minister of the Church of the Brethren, he has prepared Bible study curriculum and led seminars and workshops both for his own denomination and for the larger church.
Gardner is an associate professor of New Testament at Bethany Theological Seminary in Oak Brook, Illinois. In addition to his teaching responsibilities, he directs several cooperatively sponsored programs of field-based ministry education for the Church of the Brethren.
From 1974 to 1988, Gardner served in several capacities with the parish ministries staff of the Church of the Brethren General Board. These included editing the quarterly A Guide for Biblical Studies, developing the church membership series A People of Promise, contributing to the development of the Foundation Series, curriculum design with the interdenominational Committee on the Uniform Series, and launching the program Education for a Shared Ministry. Prior to his denominational staff assignments, Gardner pastored two Church of the Brethren congregations in northern Ohio, 1971-1974: the Paradise and Wooster Christ churches.
Among the author's published materials are numerous contributions to curriculum resources, including the International Lesson Annual, New Ventures in Bible Study, and A Guide for Biblical Studies. He has also written for the periodicals Messenger and Brethren Life and Thought and contributed articles to the Brethren Encyclopedia. He currently serves as president of the Brethren Journal Association and is a member of the Society of Biblical Literature and the Chicago Society of Biblical Research.
Gardner did his doctoral work at the University of Wurzburg in Germany, where he received the D.Theol. degree summa cum laude in 1973. He received his M.Div. degree magna cum laude from Bethany Theological Seminary in 1965 and a B.A. magna cum laude from Juniata College, Huntingdon, Pennsylvania, in 1962. He has also done graduate study in New Testament theology at Fuller Theological Seminary in Pasadena, California.
Born in Johnstown, Pennsylvania, the author currently resides in Winfield, Illinois. He is married to Carol Jean West Gardner, and both are active members of Christ Church of the Brethren in Carol Stream, Illinois.