Thomas R. Yoder Neufeld
From Anabaptistwiki

Home A B C D E F G H I J K L M N O P Q R S T U V W X Y Z Abbreviations Glossary
---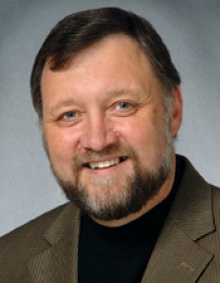 Tom Yoder Neufeld was born in Winnipeg, Manitoba, and grew up in German-speaking Europe, where his parents spent many years in church ministry. After Yoder Neufeld returned to North America in 1964, he attended Mennonite Brethren colleges in California and Manitoba, then in 1970 graduated from the University of Manitoba with a B.A. Hon. in History. He studied at Harvard Divinity School on a Rockefeller Fellowship and earned an M.Div. there in 1973.
In following years, Yoder Neufeld was involved in ministry with Native Canadians in Winnipeg's inner city, in prison and hospital chaplaincy, and with pastoring a Mennonite congregation in the northern mining town of Thompson, Manitoba. Then he spent an intense year of study at Associated Mennonite Biblical Seminary, Elkhart, Indiana, where he met his wife-to-be, Rebecca Yoder.
He returned to graduate studies at Harvard Divinity School in 1980 and in 1983 began teaching New Testament and Peace Studies at Conrad Grebel College, affiliated with the University of Waterloo in Ontario. He and Rebecca were married in 1983. He finished his Th.D. program at Harvard in 1989. In 1997, Sheffield Academic Press published his dissertation on Ephesians 6 and its biblical background: 'Put On the Armour of God!' The Divine Warrior from Isaiah to Ephesians.
Yoder Neufeld's work on this commentary began in earnest during a sabbatical year of 1990–91 in Jerusalem and Elkhart. Because of teaching and administrative duties, work on the commentary awaited further brief leaves in Waterloo and Guatemala City.
Tom Yoder Neufeld is director of Graduate Theological Studies at Conrad Grebel College. His first love remains teaching and preaching. Singing and watercolor painting are rare but treasured pleasures. Tom, Rebecca, and their children, Miriam and David, are part of First Mennonite Church, Kitchener, Ontario, where Rebecca was until recently pastor to Hispanic members.