Timothy J. Geddert
From Anabaptistwiki

Home A B C D E F G H I J K L M N O P Q R S T U V W X Y Z Abbreviations Glossary
---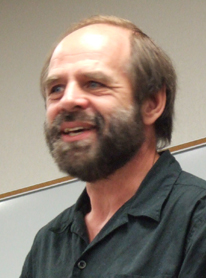 Timothy J. Geddert (Tim) teaches New Testament at Fresno Pacific University Biblical Seminary, Fresno, California. He and his wife, Gertrud, are active members of a Mennonite Brethren church, where both have been involved in leadership and in preaching. They have six adult children: five sons and a daughter. The fact that Tim was able to write his commentary on Mark (Believers Church Commentary Series, 2001) while helping to parent their youngsters is a tribute to the support and patience of Gertrud, to whom the commentary is dedicated. Fifteen years later he wrote his commentary on Luke (Kindred Press, 2016) while they were foster parents to their recently adopted seventh child.
Tim was born and grew up in Saskatchewan, Canada. After graduating from Bethany Bible Institute in Hepburn, Saskatchewan, he completed a B.A. in Philosophy (Saskatoon, 1976) and an M.Div. in Biblical Studies (Fresno, 1978). He then spent five years planting and pastoring a church in Ft. McMurray, Alberta, before earning a Ph.D. in New Testament (Aberdeen, Scotland, 1986).
Tim is married to Gertrud (Andres), who first came to North American from her native Germany to study theology and counseling. They are raising their family bilingually and biculturally. They have shared a joint appointment as church workers in Ingolstadt, Germany (1990-1993), and also lived in Germany from 2001-2003 and at other times when Tim has been on sabbatical leave.
In addition to preaching, teaching, and writing, Tim enjoys a range of activities, including bicycling with his older sons (to eight countries neighboring Germany, and on the West Coast trail from Abbotsford, B.C., to Fresno), camping and climbing Mt Whitney each year in June, painting houses (and church buildings), exploring the night skies with his telescope and writing books (numerous Adult Bible Study guides, books on ethics and ecclesiology and Biblical studies, both in English and in German).