Waldemar Janzen
From Anabaptistwiki

Home A B C D E F G H I J K L M N O P Q R S T U V W X Y Z Abbreviations Glossary
---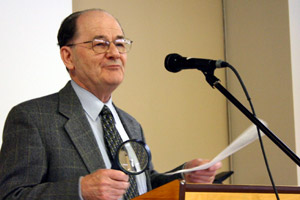 Waldemar Janzen, author of Exodus, was born in the Ukraine during the Stalin era. At the age of three, he lost his father, a Mennonite teacher and minister, to a Soviet concentration camp. In 1943, during World War II, he escaped with his mother to Germany, where he was a refugee until his immigration to Canada in 1948.
Encouraged by his mother, he was able to study. He earned the degrees of B.A. (University of Western Ontario), B.D. (Mennonite Biblical Seminary, then in Chicago), M.A. (German; University of Manitoba), Th.M. (Old Testament; Harvard Divinity School), and Ph.D. (Near Eastern Languages and Literatures; Harvard University).
Janzen began to teach at the Canadian Mennonite Bible College, Winnipeg, serving the College also as academic dean for many years. While at CMBC, he taught many courses in Old Testament and in German at the University of Manitoba, and in Old Testament at the University of Winnipeg. Other teaching assignments were in Ontario, Paraguay, and Switzerland. He has also lectured and preached in many institutions and churches. He is now Professor Emeritus of Old Testament and German.
Among Janzen's published works are Mourning Cry and Woe Oracle (DeGruyter, 1972), Still in the Image: Essays in Old Testament Theology and Anthropology (Faith & Life Press, 1982), Old Testament Ethics: A Paradigmatic Approach (Westminster John Knox Press, 1994), Exodus (Herald Press, 2000), and many articles and chapters in scholarly as well as popular publications. Teaching has always been his first love, however, and his students have provided ongoing inspiration for promoting knowledge of the Old Testament and love for it.
Waldemar is married to Mary (Warkentin), from Herschel, Saskatchewan, and later from Langley, British Columbia. They have three adult children, Martin, Hildi, and Edwin. Since their marriage in 1960, they have been members of First Mennonite Church, Winnipeg, where Janzen is an ordained minister. He has also served on many local and wider church boards and committees.