Philemon
From Anabaptistwiki

Home A B C D E F G H I J K L M N O P Q R S T U V W X Y Z Abbreviations Glossary
---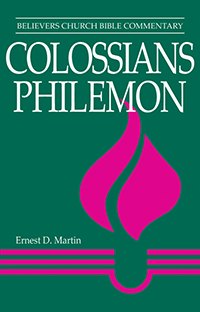 Introduction
Relevance
What is this short personal letter doing in the NT collection? It does not deal with apostolic doctrine, or with issues of church and church leadership. It is of interest because of its close association with Colossians, and because it addresses slavery on a personal level. It gives insight into early church life, and provides a model for influencing responsible decision making without resorting to apostolic command.
Date, Setting, and Author
Reconstructing the story behind this letter is partly a matter of conjecture. Some details are not entirely clear. Among the proposals, the traditional version has Onesimus was a slave of Philemon, who had left his master and had gotten in contact with Paul, and as a result had come to Christian faith, and had become valuable to Paul. Paul is sending Onesimus back to Philemon with an appeal on his behalf. Although Paul was imprisoned several places, Rome is most likely where Paul is when writing this letter. That this is a genuine Pauline letter can hardly be questioned. If written from Rome, the date is about 60 C.E.
Form and Style
This letter of faith and love is in the conventional form of that time. Of special interest are the many personal names (nine of which are also in Colossians). As personal correspondence, it is unique among Paul's letters. That it has survived and been included in the NT strongly suggests that it had accomplished what Paul envisioned.
Summary and Comment
Salutation 1-3
Paul identifies himself as "a prisoner of Christ," not as an apostle, conveying a peer relationship with the recipients. It also connotes that he is in custody because of his service to Christ. The way in which he identifies three individuals at Colossae is revealing. Philemon is a beloved friend and co-worker. He calls Apphia a sister, in the sense of spiritual kinship. Archippus is affirmed as a fellow soldier. A conjecture, without supporting evidence, is that Philemon and Apphia are husband and wife, with Archippus as their son. It is not at all clear to whom the church "in your house" refers. Philemon may have provided the house, but was not the church leader. The family imagery served to remind Philemon that he is part of a family system.
Thanksgiving and Prayer 4-7
Paul's commendations for his friend and brother are expressed as thanks to God, for his love for all the saints and his faith toward the Lord Jesus. The phrase "the koinonia of your faith" (literally, with various translations) capsulizes the fellowship produced by common faith. Paul further commends Philemon for being one who refreshes the hearts of the saints. He experiences him as a man who brings out the best in people. Prefacing the central appeal of the letter with these words of appreciation was genuinely Pauline, not just softening him for the heavy request.
Appeal on Behalf of Philemon 8-22
The appeal is not by way of command, but based on love. It is about Onesimus, whose name means useful. He had become useless to Philemon, but now, fathered by Paul, He is useful to both Paul and Philemon. Though wanting to keep him, he is sending him back for Philemon to determine his future. The crucial factor is that he will have him back, not as a slave, but as a beloved brother.
The welcome to Onesimus is to be as if welcoming Paul himself. He adds a promissory note to cover what Onesimus may owe. Although not using a term for release of a slave, or flatly denouncing the institution of slavery, this text does cut the nerve of owning other humans as property. By anticipating that Philemon will do more than asked, he opens the way for release and perhaps return to Paul. The hospitality request expects a welcome, and is not a promise to check up on the outcome.
Greetings and Benediction 23-24
The closing greetings include name similar to those in Colossians. Naming five persons associated with Paul adds to the sense of inter-connectedness in the early church. This special letter ends on the note of grace.
Conclusion and the Anabaptist Tradition
The human-interest story surrounding this personal communication that has been preserved for us intrigues the reader. Although the setting and context of NT books is always important, the triangular relationship occasioning Philemon enhances its value. This letter provides a model for spiritual family admonitions by placing a sensitive situation in the context of a faith community. Paul seeks to persuade a right decision without resorting to authoritative command.
It addresses the issue of slavery in the early church, not by condemning all slavery, but by applying the life-changing gospel to the master-slave relationship by calling Philemon to receive Onesimus back, "no longer as a slave but more than a slave, a beloved brother." This is how the gospel is to work in the real social, political and economic world .
Recommended Essays in the Commentary
Slavery
Koinonia (Text in Biblical Context; Text in the Life of the Church, vv. 4-7)
Bibliography
Dunn, James D. G. The Epistles to Colossians and Philemon. The New International Greek Testament Commentary. Grand Rapids, MI: Eerdmans, 1996.
Hershberger, Guy F. War, Peace, and Nonresistance. Scottdale, PA: Herald, 1946.
Martin, Ralph P. Colossians and Philemon. The New Century Bible Commentary. Grand Rapids, MI: Eerdmans, 1978.
O'Brien, Peter T. Colossians, Philemon. Word Biblical Commentary. Waco, TX: Word, 1982.
Invitation to Comment
To recommend improvements to this article, click here.