The Kingdom of God (in Mark)
From Anabaptistwiki

Home A B C D E F G H I J K L M N O P Q R S T U V W X Y Z Abbreviations Glossary
---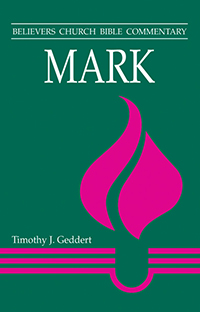 God's kingdom (hē basileia tou theou) is named for the first time in 1:15, where it appears in Mark's opening summary of Jesus' teaching (1:14-15). Its nearness (or arrival) is the main theme of Jesus' proclamation in Galilee. Yet Mark narrates the entire Galilean ministry with hardly a reference to it (4:11, notes). References to God's kingdom increase in the second half of Mark, where the author calls his readers to discern what is involved in thinking divine things rather than human things (cf. 8:33).
In Mark, secrecy surrounds God's kingdom (cf. 4:11). God's kingdom comes secretly. It is being established, but its coming is discerned only by those with eyes to see and ears to hear. It is discerned particularly by those who can "see" that Jesus is on his throne as he hangs on a cross with the words King of the Jews mounted above his head. As with other NT writers, Mark presents God's reign as present and future, "already" and "not yet," under attack now but destined eventually to be fully victorious, secretly coming now but publicly manifest at the end of the age.
"God's reign" is an equivalent expression to "God's kingdom." As with most biblical writers, Mark conceives of God's kingdom as God's "active reigning" rather than as some kind of literal kingdom (with boundaries of time and space). God's active reigning cannot be consigned to heaven, or to the future, or to the church, or to any political system, or to the human heart, or to any other narrowly defined sphere (cf. H. Snyder; TLC for 4:1-34).
God's reign is God's active involvement in creation and in history. It is God fulfilling divine purposes. In the Lord's Prayer we are taught to pray, "Your kingdom come!" The meaning of this line is given in the next: "Your will be done on earth as it is in heaven" (Matt. 6:10). God's kingdom is in the process of coming as God's purposes are accomplished in the world, particularly in and through God's people.
According to Mark, God's reign is established as Jesus does the works of God, calls disciples, works in them and through them, and leads them in the way of the cross. It involves living by God's values rather than human values. The message of God's reign is like a seed taking root in fertile soil (hearts) and growing up to produce a harvest that pleases God. God's reign does not announce its coming with trumpets or establish itself by force. It grows up within a hostile environment; it does not use aggression against that hostile environment. Those with eyes to see will discern that, even in seeming defeats, it is advancing.
God's reign, though secret, is not private. It is not something established only in the recesses of the individual heart. It is established as followers of Jesus join God's work in the world, as they gather around Jesus, do his works, and proclaim the message of God's reign. Those with "seeing eyes" recognize that in Jesus the kingdom of God has indeed come with power (cf. 9:1, notes). At the end of the age, all secrecy concerning God's reign will be removed when the Son of Man returns in great power and glory.
Bibliography
Ambrozic, Aloisius M. The Hidden Kingdom. Washington, DC: Catholic Biblical Association of America, 1972.
France, R. T. Divine Government: God's Kingship in the Gospel of Mark. London: SPCK, 1990.
Kelber, Werner H. The Kingdom in Mark: A New Place and a New Time. Philadelphia: Fortress, 1974.
Klaassen, Walter. Armageddon and the Peaceable Kingdom. Scottdale, PA: Herald, 1999.
Kraybill, Donald B. The Upside-Down Kingdom. Scottdale, PA: Herald, 1978.
Ladd, George Eldon. Jesus and the Kingdom: The Eschatology of Biblical Realism. New York: Harper & Row, 1964.
Perrin, Norman. Jesus and the Language of the Kingdom. Philadelphia: Fortress, 1976.
Snyder, Howard. Models of the Kingdom. Nashville: Abingdon, 1991.