1 & 2 Thessalonians
From Anabaptistwiki

Home A B C D E F G H I J K L M N O P Q R S T U V W X Y Z Abbreviations Glossary
---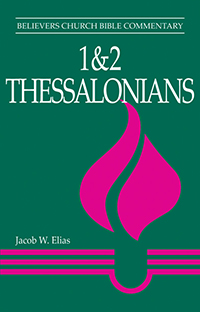 1 Thessalonians
Introduction
Relevance
As a pastoral letter addressed to the first century church in Thessalonica, 1 Thessalonians seeks to equip its members for a life style characterized by faith, love and hope. The prevailing imperial ideology of devotion to the Roman Empire in the Mediterranean world required prayerful discernment about how their allegiance to Jesus Christ shapes their daily lives as individuals and a community within the empire. The proclamation of the Gospel by the apostle Paul had elicited their affirmation of the sovereignty of God and the Lordship of Christ. Their experience of estrangement and persecution as a result of the conflicting alignments between empire and the church elicits Paul's pastoral instruction and encouragement. The Believers Church vision of communal life and mission resonates with Paul's longing for the church to continue to be faithful within in the tensions they face. This faithfulness is inspired by Jesus' faithfulness, even to the point of death on the imperial cross, and it is empowered by the Spirit of God.
See essay: How Christian Communities Emerge
Date, Setting, and Author
There is a remarkable consensus among scholars that 1 Thessalonians was written in about 50 CE, before any of the other writings that are included within the New Testament canon. It also deserves to be noted that this epistolary encounter between missionary pastors and this community was preceded by Timothy's visit in Thessalonica to learn firsthand about events subsequent to Paul's initial visit (1 Thess 3:1-10).
First Thessalonians is addressed to a newly planted church in the Macedonian city of Thessalonica, a major metropolitan center strongly aligned with the Roman imperial powers. A minority Jewish population and the assembly of some Jews and Gentiles who acknowledged Jesus as Lord found themselves in a context where their allegiance to God tended to collide with imperial values and the civic cult of devotion to the emperor.
See essay: Historical and Political Context
In conformity with letter-writing conventions in the Greco-Roman world of the first century CE the letter begins by naming the author. In 1 Thessalonians there are three. There has has been consensus among scholars that the primary author is the apostle Paul, although two of his partners are named as well: Silvanus, and Timothy. The dominant use of the first pronoun plural attests to the collegial nature of this epistle. Occasionally the pronoun "I" appears, ostensibly to give Paul the opportunity to speak with his own voice.
See essay: Relationship Between 1 and 2 Thessalonians
Form
Paul wrote letters to congregations or individuals when he could not be personally present with them. In writing 1 Thessalonians he adapted the conventional Hellenistic letter form that prevailed in his day:
| | |
| --- | --- |
| 1:1 | Salutation: Sender, Recipient, Greeting |
| 1:2-10 | Thanksgiving section |
| 2:1-5:22 | Body of the Letter |
| 5:23-28 | Letter closing |

Each of these sections of the letter was adapted to address the community in ways tailored to their needs and situations.
See essay: Epistolary Analysis
Outline
Salutation, 1:1
Thanksgiving, 1:2-10
Body 1 Labor of Love: The Story of Pastors and People, 2:1–3:13
Gentle Nurse and Encouraging Father, 2:1-12
Imitators in Suffering, 2:13-16
Orphaned Yet Reassured, 2:17–3:10
Pastoral Prayer, 3:11-13
Body 2 Steadfastness of Hope: Pastoral Exhortation and Encouragement, 4:1–5:22
Holiness in Relationships, 4:1-8
Love in Community, 4:9-12
Always with the Lord! 4:13-18
The Times and the Seasons, 5:1-11
Life and Leadership in the Community of Faith, 5:12-22
Benediction and Closing Instructions, 5:23-28

Summary and Comment
This discussion of 1 Thessalonians shows how Paul employs this letter to speak to specific developments in the Thessalonian congregation. The themes of faith, love, and hope serve as a rubric to portray the progression of thought in this letter.
1:1. The salutation names the authors and recipients and concludes with the wish prayer, "Grace to you and peace."
1:2-10. Paul begins with thanksgiving. He expresses gratitude to God, specifically for how the members of this community had come to faith. When he mentions them in his prayers he remembers their faith and love and hope, and acknowledges their election. In telling the story of the emergence of this congregation, Paul highlights both how he and his partners reflect on their initial experience in Thessalonica and how the Thessalonians received the Gospel. Strikingly Paul deploys the motif of imitation: their affliction and joy mirror the path that the evangelists and Jesus himself had followed when they encountered persecution. Paul concludes the thanksgiving section of the letter in a summary of how past, present, and future are all wrapped into one grand vision of the reality of this Christian community: "You turned toward God away from idols, to serve the living and true God, and to await God's Son from heaven, whom God raised from the dead, Jesus who delivers us from the coming wrath." (1:9-10)
2:1-4:12. The main body of the letter continues, first, with retrospective comments about how Paul and his companions had conducted themselves during their initial visit (2:1-12). A series of disclaimers addresses the suspicion of some in Thessalonica that this missionary party was no different than hucksters among Cynic travelling philosophers: deceitful immoral tricksters, flatterers, money-grubbing egotistical seekers of fame and fortune. Knowing or suspecting that at least some in Thessalonica might have such suspicions, Paul reflects on the internal and external circumstances of their evangelistic visit in Thessalonica. He uses several family metaphors, referring to himself and his partners as apostolic babies, and as orphans, thereby underscoring their vulnerability. And Paul compares himself to a mother who cherishes her children and a father who nurtures and encourages them to live in conformity to God's kingdom.
Paul continues in 2:13-16 with another expression of gratitude and with reflections on how the suffering of the Thessalonians in their setting parallels what the churches in Judea were experiencing from their own kin. Wrath has come upon those who oppose believers in Judea, Paul asserts, apparently referring, as did the prophets, to some tragic event among Jews in Judea. (See Text in Biblical Context "Wrath" pp. 93-98)
In 2:17-3:13 Paul reverts to a narrative mode, rehearsing the developments that prohibited Paul's return to Thessalonica and led to the decision for Timothy to visit instead. A wish-prayer articulates both Paul's longing to rejoin the Thessalonians and his eagerness for them to grow in love and be established in holy hopefulness.
With a "finally, therefore, brothers and sisters" Paul moves to pastoral exhortation and encouragement (4:1-5:22). Thematically the section 4:1-12 continues to focus on love. Faithfulness within sexual relationships needs to be characterized by holiness, honor, and self-control. Responsible social and economic behavior within the community is marked by practical acts of love, a healthy work ethic, and the avoidance of the kind of meddlesome unruliness (often mistakenly understood as idleness) that leads to unhealthy reliance on others.
4:13-5:22. In 4:13-18 Paul's attention shifts to exhortation and encouragement to address the hopelessness linked to the suffering that believers in Thessalonica were experiencing. Some people had died, and those who were left behind struggled to understand what had happened. Paul seeks to reassure them by reminding them that Jesus' faithfulness led to his death, but God raised him up. "Jesus died and arose" Paul reminds them, and he adds that God will also vindicate those whose faithfulness to God leads to suffering and martyrdom. To reassure and strengthen them, Paul deploys dramatic apocalyptic language and motifs. This use of apocalyptic imagery moved some of the early and later readers of this letter to propose a variety of end-time scenarios. A literalistic interpretation apocalyptic literature, such as the book of Daniel, typically leads to a misreading of the original intention. In the case of 1 Thess 4:13-18, the motif of coming (parousia) and meeting have clear political implications. There were times when the Roman Caesar travelled to major cities in the empire. In anticipation of the emperor's coming civic leaders would mount cleanup and redecorating efforts along the parade routes and prepare residents of the city to welcome the emperor and shout their allegiance. They were invited to anticipate a future meeting of Caesar. Similar imagery is used when Paul invites the Thessalonian believers to anticipate that, when their Lord comes, they, and those who had suffered and died, would meet the Lord, not at the city gate but in the air. The purpose of such evocative imagery is to comfort the grieving and encourage the living with the good news of what God has done and will do through Jesus the Christ.
In 5:1-11 Paul attempts to defuse speculation about the "times and seasons" related to the day of the Lord. He assures them that violent imperial military strategies intending to guarantee "peace and security" within the expansive Roman empire will inevitably lead to destruction. And he reminds them that, as those whose armor consists of the breastplate of faith and love and whose helmet is the hope of salvation, they will live with the Lord who died for them. As people committed to a life style of faith, hope, and love, they are reminded to encourage each other and build each other up.
Admonitions and instructions about life and leadership within the faith community (5:12-22) wrap up the letter. Some groups mentioned earlier in the letter are mentioned specifically: the unruly, the fainthearted, and the weak. More general encouragement urges people to pursue the welfare of all, including their enemies, and to let their lives be marked by rejoicing, prayer, and thanksgiving. Believers are urged to allow the Spirit of God to empower them and guide them in their life together.
5:23-28. The letter closing begins with a wish prayer which reinforces the message of encouragement in 4:13-5:11 regarding "the coming (parousia) of our Lord Jesus Christ." A request for prayer, several short admonitions, and a benediction conclude the letter. "God of peace" and "grace of our Lord Jesus Christ" recall the letter's opening greeting, "Grace to you and peace." God's grace and peace constitute the big canvas on which the believers' realities find their place.
2 Thessalonians
Introduction
Relevance
The second letter to the Thessalonian congregation is the continuation of pastoral encouragement for these believers to live a life marked by faith, love, and hope. Their faith and love had continued to increase but evidently they struggled to sustain hopefulness in the face of heightened opposition and suffering. Paul and his companions commend them for their ongoing steadfastness and faith, which give hope-inspiring evidence that indeed God does judge justly. On the other hand, Paul also feels compelled to correct the destabilizing exuberance with which some believers in Thessalonica (the unruly) claimed that the Day of the Lord had already come. The Believers Church has historically also demonstrated remarkable endurance in suffering, on one hand, while also at times yielding to an escapist enthusiasm for an end-time rescue from the world.
Date, Setting, and Author
Many scholars have concluded that 2 Thessalonians was written at some point during the last half of the first century CE. They argue that it was written in the name of Paul, Silvanus and Timothy. The parallel structures of the two letters and the distinct differences in vocabulary and tone have led to these conclusions. However, the real and perceived differences between 1 and 2 Thessalonians can all be understood in light of the new circumstances which emerged in Thessalonica following Paul's initial visit and the writing of the first letter.
See Relationship Between 1 and 2 Thessalonians
Second Thessalonians is addressed to a congregation in the Macedonian city of Thessalonica, a major metropolitan center strongly aligned with the Roman imperial powers.
Form
In 2 Thessalonians the authors have adapted the conventional Hellenistic letter form for the purpose of offering pastoral encouragement and instruction from a distance:
1:1-2
Salutation: Sender, Recipient, Greeting
1:3-12
Thanksgiving, with apocalyptic elaboration and an intercessory prayer report
2:1-3:15
Body of the Letter, with several sub-sections:

Eschatological teaching (2:1-12)
Thanksgiving, Admonition, Wish prayer (2:13-17)
Pastoral instructions (3:1-15)

3:16-18
Letter closing
Each of these sections of the letter was adapted to address the community in ways tailored to their needs and situations.
Outline
Salutation, 1:1-2
Thanksgiving, 1:3-12
Body 1 Living in Light of the Future, 2:1-17
The Day of the Lord? Not Yet! 2:1-12
Called to Obtain Glory! 2:13-17
Body 2 Pastoral Instructions, 3:1-15
Confronting Evil, 3:1-5
Conduct in the Community of Faith, 3:6-15
Personal Greeting and Benediction, 3:16-18

Summary and Comment
This outline of 2 Thessalonians demonstrates that Paul adapts the letter format to speak to specific developments in the Thessalonian congregation, especially related to their expectations concerning the Day of the Lord.
1:1-2. The salutation names the authors and recipients and concludes with an expanded prayer for grace and peace."
1:3-12. The thanksgiving here has a more reserved tone than in the first letter, likely because of escalating opposition from without and a disturbing unruliness within. Thanksgiving for their faith and love segues into an apocalyptic elaboration about God's judgment. Faithful endurance under persecution is rooted in the confidence that ultimately God will vindicate the faithful. In the end, God's justice will prevail. To those who afflict, God will repay with affliction, and to those being afflicted, God will provide relief. Ultimately those who fail to acknowledge God and heed the Gospel exclude themselves from God's presence and glory. A prayer report expresses the longing that glory and grace of the Lord will emanate from the community where faith, love, and steadfast hopefulness prevail under difficult circumstances.
See "Suffering and God's Judgment" The Text in the Life of the Church pp. 269-271
2:1-17. The first section of the letter body (2:1-12) offers pastoral correction and instruction precipitated by aberrant eschatological teaching purveyed within the congregation. Upstart prophets claiming to be speaking for Paul during ecstatic worship have been announcing that the Day of the Lord has already come. Addressing what he considers to be deceptive and dangerous teaching, Paul utilizes apocalyptic rhetoric to warn about grievous apostasy, still in the future, which will feature an antagonist sitting in God's temple and announcing his divinity. Before the arrival of the climactic Day of the Lord, Paul says, oppression at the hands of the oppressor (the emperor and his provincial and local officials) will continue for those whose confession of Christ as Lord flies in the face of the imperial cult. Ultimately, however, the antagonist will be dramatically defeated in a holy war.
The sequel to the vivid eschatological drama consists of renewed thanksgiving, pastoral encouragement, and a prayer report (2:13-17). Paul thanks God for the Thessalonian congregation, the first fruit of salvation. He urges them to stand firm in what they had been taught. And he prays for them to experience comfort, strength and fruitfulness.
3:1-15. With a "finally" Paul launches pastoral exhortation, first in general terms: a call to intercession, assurance of God's faithfulness, and a prayer for them to know God's love and the steadfastness of Christ (3:1-5). The more specific instructions are introduced as imperatives (3:6-15), indicative of the gravity of the situation in the congregation. Paul urges believers to stay aloof from a group characterized as being socially disruptive. Often described as "idlers" it is more accurate to describe them as "the unruly." Likely the frenzy of prophetic claims that the Day of the Lord has dawned also resulted in the abandonment of normal self-sustaining activity and a resulting dependence on the faith community for their physical needs. Paul therefore says that anyone not willing to work also should not eat, likely referring to communal meals where food is shared. Using a word play Paul shares what he has heard: These unruly people are busybodies, not busy working. He commands them to work quietly rather than be noisily meddlesome. Paul summarizes by urging the congregation not to associate with such people, yet with the caution that these are not enemies but brothers and sisters in need of admonition as prelude to change.
3:16-18. The letter closes with a personal greeting, handwritten by Paul himself, and a benediction recalling the peace and grace with which the letter opens.
Conclusion and the Anabaptist Tradition
Paul's primary intention in 1 and 2 Thessalonians is to reassure and to warn. Those who remain faithful and steadfast, even under persecution, are reassured. Those being deceived hear a warning: though not yet, God's righteous judgment will surely come. And those who are duped into an exercise of date-setting and an escapist notion of salvation are instructed to realize that they have a mission to accomplish here and now, not just a heaven to await. The apocalyptic imagery utilized in these letters fortifies faithfulness, an ethic of love, and vibrant hopefulness, all in the context of a seductive imperial culture that divinizes the emperor and relies on the militaristic promise of peace and security.
Enlightened folks living in comfort and ease are often uncomfortable with these letters. Heard by the afflicted and the suffering in Thessalonica then and by the oppressed and the poor today this is good news. Relief to the oppressed, and pressure on establishment people? Is that good news? It is, as we side with the oppressed and as we seek God's justice, both for them and for ourselves.
Recommended Essays in the Commentary
Apocalyptic
Eschatology
Historical and Political Context
Judaism in the Diaspora
Leadership and Ministry Gifts
Additional Resources
Elias, Jacob W. "Paul, Peace, and Apocalyptic." In Struggles for Shalom: Peace and Violence across the Testaments, edited by Laura L. Brenneman and Brad D. Schantz, 267-78. Eugene, OR: Wipf and Stock, 2014.
____. Remember the Future: The Pastoral Theology of Paul the Apostle. Scottdale, PA: Herald, 2006.
Horsley, Richard, ed. Paul and Empire: Religion and Power in Roman Imperial Society. Harrisburg, PA: Trinity Press International, 1997.
____, ed. Paul and the Roman Imperial Order. Harrisburg, PA: Trinity Press International, 2004.
____, ed. Paul and Politics. Harrisburg, PA: Trinity Press International, 2000.
Invitation to Comment
To recommend improvements to this article, click here.