1 & 2 Timothy
From Anabaptistwiki

Home A B C D E F G H I J K L M N O P Q R S T U V W X Y Z Abbreviations Glossary
---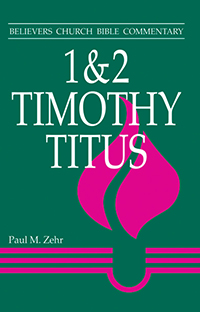 Introduction
Relevance
1 & 2 Timothy and Titus present themes that are relevant to the church in finding its place in society. Sometimes called Pastoral Epistles, these three individual letters were written to leaders of young, growing congregations in the context of Roman society. The first major theme, God Our Savior, contrasts faith in God with Roman imperial religion. Whereas the Roman Emperor was called savior the messages to Timothy and Titus directly say God and Jesus Christ is savior. Whereas the Emperor bestowed benefits upon the people (charis) God's grace is bestowed upon the church through Jesus Christ. Whereas the emperor appeared (epiphaneia) to the people so also Christ appears the first and second time. And whereas godliness (eusebeia) meant showing respect for the Roman and Greek gods, so godliness is the way Christians live by the truth of the gospel. Living under the lordship of Christ today means the church cannot allow nationalism and its elevation of statesmen as divine to rise above its loyalty to God.
A second theme is the church as the household of God. Instead of describing the church as the body of Christ, these three letters pick up household terminology common in Roman culture. But they give household life new meaning. The Household of God is where God dwells, just as God dwells in the temple. Household behavior of leaders, men, women and slaves was modified to be consistent with faith in Christ, but not taken so far that the church lost its relevance in the first century world. In mission work today in a variety of cultural settings church leaders can find help from the Pastoral Epistles in contextualizing the gospel by accepting cultural practices that line up with Christian faith and rejecting other practices that do not conform to Christ.
A third theme is the character and work of the pastor. Paul writes to Timothy so that you may know how one ought to behave in the household of God (1 Tim 3:15). Titus is to choose leaders (elders, bishop) who are blameless. Pastors lead by who they are, by their own spiritual maturity. In 2 Timothy Paul encourages Timothy to carry out his ministry fully, to proclaim the message of the gospel, and to willingly suffer for the gospel. This message is relevant for church leaders today, both to those who are discouraged in their work and to others who may not be giving enough attention to their own spiritual life.
A fourth theme is suffering. Paul encourages Timothy to join him in suffering for the gospel (2 Tim 1:8) because this suffering is tied to the suffering of Christ. In like manner, Anabaptists view the suffering church as tied to the suffering Christ. In a post-modern world the church and its leaders have been pushed out of the center to the margins of society. In addition to this social rejection, some church leaders experience martyrdom.
Date, Setting and Author
1 & 2 Timothy are individual letters addressed to Timothy, who was leader of the church at Ephesus. Titus is an individual letter written to Titus, leader of the young church in Crete.
Authorship and date for these letters is disputed. No one knows for sure who wrote them. Some scholars assign to them Pauline authorship and say they were written at the end of the apostle Paul's ministry (AD 64-67). Other scholars say they were written pseudonymously in the early second century when the monarchial bishop began to arise in the church. Many scholars now place them in the post-Pauline period of the church between the apostle's death and the beginning of the second century. A closer analysis suggests much of the content of these individual letters came from Paul with differences in vocabulary and syntax attributed to different secretaries. Of the three letters 2 Timothy is more personal and Pauline in tone. 1 Timothy and Titus seem to combine Pauline and non-Pauline themes that fit best into a period between A.D. 65 and 85. 1 Timothy contains a greater influence of Luke, who was likely Paul's secretary. In tone Titus falls between the other two letters. While we do not know for sure who is author of these three letters, much of the content came from the mind of Paul through Luke, or one of Paul's associates. Luke bridges the gap between the historical Paul and the Pauline legacy. Thus, the letters speak from within the trajectory of Paul's apostolic tradition.
Ephesus was the fourth largest city in the Roman empire. Paul established a church in this city and later sent Timothy to Ephesus to give leadership to the church. Paul needed someone who knew both Judaism and Greco-Roman religions to guide the church. The religious life of Ephesus comprised several traditions including the huge temple of Artemis. Throughout the city were shrines to Cybele, the Phrygian mother goddess and Zeus the male deity. Egyptian mystery rites were present in the temple of Serapis. Most prominent was the imperial temple dedicated to Augustus Caesar and his successor Roman emperors.
In 1 Timothy Paul instructs Timothy to set forth a divinely organized pattern of life as the household of God. In contrast to the Roman emperor who was called savior (soter), Jesus is savior (soter). All of life is to be subject to the will of God. The church as household of God is a microcosm or paradigm of a world obedient to God in contrast to the pagan Greco-Roman world. Unhealthy living and teaching in Roman society is rejected. This letter calls for healthy teaching and healthy living according to Christian faith and ethics. Household behavior is emphasized and Timothy is told how to behave in the household of God, which is the church of the living God.
2 Timothy, written for this Ephesian church setting, is more personal in tone than 1 Timothy. Paul offers advice and encouragement to Timothy who is to follow the pattern of ministry set forth by Paul himself. Paul uses his own suffering to exhort Timothy to accept suffering as a servant of Christ. Timothy is not to be ashamed of the testimony of the Lord nor of Paul the prisoner, for in suffering Paul and Timothy identify themselves with the suffering of Christ. The grace of God in Christ Jesus is the foundation upon which Timothy can stand strong in Christian ministry and from which Timothy can entrust others with the message of the gospel. In this short letter Paul ties exhortations to theological claims.
Form and Rhetoric
1 & 2 Timothy and Titus are separate letters written to individuals, similar to the way Paul wrote to Philemon. They are not written to churches, as are the other Pauline epistles. The genre of 1 Timothy is much like Hellenistic mandate letters (mandata principis) in which a higher official sent commands to subordinates. As a mandate letter 1 Timothy gives instructions on how to guide the church at Ephesus. It is both an instructional and apologetic letter. Both inductive and deductive forms of argument through the use of paradigms are found in this letter. Ethical exhortations permeate the letter. A close literary analysis shows Lukan traits (seen in the Gospel of Luke and in the book of Acts) including economic justice, salvation, care of widows, slaves, deacons and elders.
2 Timothy is more personal and self-revealing in tone than 1 Timothy. More than twenty people are named in this short letter. There is movement back and forth between Paul's ministry and Timothy's ministry. Testamentary literature is evident as Paul shares a last will and farewell discourse in 4:6-7 which parallels Paul's farewell speech to the Ephesian elders in Acts 20:18-35. 2 Timothy contains some elements of paraenetic literature, exhortation that encourages certain actions and discourages other actions. This letter urges Timothy to not be ashamed of the gospel of Christ nor to shy away from suffering for the sake of Christ. By accepting suffering Timothy will identify himself both with Paul's suffering in prison and with the suffering of Christ.
Summary and Comment
1 Timothy
1 Timothy gives attention to the church and its leaders. In an opening salutation (1:1-2) the writer speaks of God Our Savior thereby making an immediate contrast to the Roman Emperor as savior (soter). Thus, the church at Ephesus has a different Lord and, as household of God, is an alternative community. Five major themes are set forth in this letter.
First is the church leader's life and teaching (1:3-20). Timothy is to teach true doctrine that conforms to the gospel (1:3-11). Paul then gives his own testimony of God's work of grace in his life and urges Timothy to fight the good fight of faith (1:12-20).
A second major theme, prayer and behavior in the household of God, appears in chapter 2:1-17. The chapter begins with a call to prayer so that all people may be saved. In v. 5 the author gives a confessional statement on the person and work of Christ. Paul talks about the behavior of men and of women. This section, especially 2:9-15 on women, is controversial. Women are to be quiet (not silent) in the church. This instruction is contextual and does not apply today. There is no common consensus on what Paul means by the phrase she will be saved through childbearing in 2:15.
A third theme is found in chapter 3, namely, character traits for leaders in the household of God (3:1-16). Here Paul lays out the moral qualifications of bishops (3:1-7) and deacons (3:8-13). This is followed by stating the purpose for writing this letter (3:14-15), that Timothy may know how to behave and work in the church as the household of God. The chapter ends with a confessional statement in v. 16.
A fourth theme, the leader's duties in the household of God, emerges in 4:1-16. The leader is to condemn sinful teaching. This sinful teaching includes some who have renounced the faith by turning to demonic spirits. It also includes sinful sexual practices and food restrictions promoted by deviant teachers. In vv. 6-10 Timothy is encouraged to train himself in godliness. The chapter closes (vv. 11-16) with ten imperatives laying out the duties of leaders in the church.
A fifth theme, managing the church as the household of God, comes in 5:1-6:10. Attention is called to honoring older men in the church (5:1-2), taking care of widows in the church (5:3-16), and the quality and role of elders in the church (5:17-25). This is followed by teaching on slaves in the church (6:1-2a) and the use of money in the church (6:2b-10, 17-19). This whole section provides insight into the change in household behavior that takes place in Christ over against the prevailing culture.
Paul closes 1 Timothy with final instructions for Timothy. Timothy is to shun certain evil practices and pursue six virtues in 6:11-12. The letter closes with a doxology in 6:13-16 and a final exhortation that Timothy guard the trust of the gospel that is in his hands.
2 Timothy
2 Tim 1:8-10 presents the underlying theme of the entire letter. In a culture of honor and shame Timothy is not to be ashamed of the gospel. He is to accept suffering, along with Paul, which ties their ministries to the suffering of Christ. In suffering salvation has come through the grace of God that is revealed in Jesus Christ.
After a salutation and thanksgiving in 1:1-5, Paul presents himself as a model for Timothy in the Christian ministry (1:6-18). The apostle is faithful to the gospel despite suffering (vv.6-14). In vv. 15-18 examples are given of both ashamed and unashamed associates.
In 2:1-13 faithfulness and endurance in Christian ministry is emphasized. Timothy must remain strong in the grace that is in Christ Jesus (2:1), entrust the gospel to faithful people who will pass it on to others (2:2), and share in suffering (2:3). Endurance is emphasized by the analogy of the soldier, the athlete, and the farmer. Paul then states the historic gospel of Jesus Christ and makes clear this is why he endures suffering. In 2:11-13 a faithful saying, with "if" and "then" clauses, calls attention to what God is doing and will do for those who believe the gospel. In 2:14-3:9 Paul urges Timothy to teach sound doctrine (spiritually healthy teaching) in contrast to unhealthy teaching by the opponents. Timothy can do his best work by not being ashamed and by rightly explaining the word of truth. By so doing he can avoid silly arguments of the opponents knowing that God's foundation of truth stands firm (2:19). As a servant (utensil) in God's house, Timothy is to shun evil practices and pursue righteousness, faith, love, and peace. He is not to get caught up in quarrelling with the opponents, but should act as a kind teacher and correct opponents with gentleness. The section ends with a long list of vices of sinful persons, some of which have a form of godliness but deny its power (3:5). These opponents are characterized as having corrupt minds and counterfeit faith, and opposing the truth (3:8).
In 3:10-17 Paul again presents his own model of behavior in the midst of persecution and urges Timothy to continue in the teachings of holy scripture which he has been taught since childhood knowing that holy scripture is breathed out by God and is useful for teaching, reproof, correction and training in righteousness. Scripture equips for every good work (3:16).
In chapter 4:1-5 Paul gives Timothy a final charge. He is to proclaim the message of the gospel regardless of the situation in which it is given, teach with patience, endure suffering, do the work of an evangelist and carry out your ministry fully. Thereupon, Paul turns to himself and gives his final testimony in 4:6-8. The apostle recognizes death is imminent. He has lived a faithful life by keeping the faith and anticipates receiving the reward of a crown of righteousness from the righteous judge.
The short letter comes to conclusion with final personal instructions to Timothy and greetings to fellow workers in 4:9-22. Of special note is 4:11, Only Luke is with me. Get Mark and bring him with you, for he is useful in my ministry.
Conclusion
The letters to Timothy and Titus combine the historic gospel of Christ to the practical mission of the church in Ephesus and Crete. Their larger theology includes God as Savior over against Roman imperial religion, the integrity of Christian leaders over against the unhealthy teaching and conduct of opponents, the church as household of God over against household behavior in the Greco-Roman world, and the work of pastoral leaders in the church. The quality and integrity of pastoral leaders is rooted in the gospel of Jesus Christ, modeled by the apostle Paul, and applied to Timothy in Ephesus and Titus in Crete.
Recommended Essays in the Commentary
Authorship
Christology in the Letters to Timothy and Titus
Contextualizing the Gospel
Ecclesiology
Eschatology
Faithful Sayings
Holy Spirit in the Letters to Timothy and Titus
Household Behavior
Names for God and the Imperial Cult
Portrait of the Pastor
Women in Ministry
Bibliography
Aageson, James W., Paul, The Pastoral Epistles, and the Early Church. Library of Pauline Studies. Peabody, MA: Hendrickson Publishers, 2008.
Collins, Raymond F., 1 & 2 Timothy and Titus. The New Testament Library, Louisville, KY: Westminster John Knox Press, 2002.
Fee, Gordon D., 1 and 2 Timothy, Titus. New International Biblical Commentary. Peabody, MA: Hendrickson Publishers, 1988.
Marshall, I. Howard. The Pastoral Epistles. The International Critical Commentary. Edinburgh: T & T Clark, 1999.
Mounce, William D., Pastoral Epistles. Word Biblical Commentary Volume 46. Nashville, TN: Thomas Nelson Publishers, 2000.
Quinn, Jerome D. and William C. Wacker, The First and Second Letters to Timothy. Grand Rapids, MI: William B. Erdmans Publishing Company, 2000.
Towner, Philip H., The Letters to Timothy and Titus. The New International Commentary on the New Testament. Grand Rapids, MI: Eerdmans, 2006.
Witherington III, Ben. A Socio-Rhetorical Commentary on Titus, 1-2 Timothy and 1-3 John. Letters and Homilies for Hellenized Christians, Volume 1. Downers Grove, IL: InterVarsity Press, 2006.
Zehr, Paul M., 1 & 2 Timothy, Titus. Believers Church Bible Commentary. Scottdale, PA: Herald Press, 2010.
Invitation to Comment
To recommend improvements to this article, click here.